Today is a kind of double Marian feast in England, and it was pretty confusing to me. My missallette had it as Our Lady of Walsingham, the title of Mary at the medieval pilgrimage destination also known as "England's Nazareth," where a replica of Mary's little house represented the whole mystery of the Annunciation of the Lord and the hidden life of the Holy Family. But the sisters kept talking about it being "Our Lady of Ransom." We prayed the Evening Prayer of this second memorial, and the closing prayer made it very clear that this was a kind of feast in which the English church, calling itself "the Dowry of Mary," reaffirms its connection to Peter.
Actually, I liked the Walsingham liturgical prayer better, the way it tied in the concept of pilgrimage, the Annunciation and our becoming the dwelling place of God: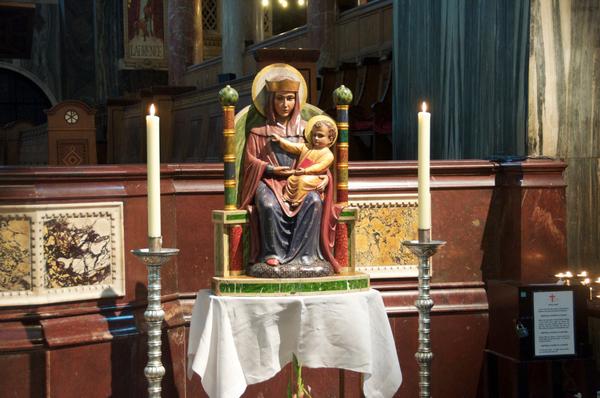 Our Lady of Walsingham,
enthroned today in Westminster Cathedral
Grant, we pray, almighty God,
that as in the mystery of the Incarnation
the blessed and ever Virgin Mary
conceived your Son in her heart
before she conceived him in the womb,
so we, your pilgrim people,
rejoicing in her motherly care,
may welcome him into our hearts
and become a holy house fit for his eternal dwelling.
Who lives and reigns with you in the unity of the Holy Spirit,
one God, for ever and ever.