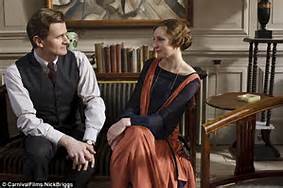 Here in the Pauline household (
and not only!
), Downton Abbey is as popular as it is in any female-run home. Sister Frances told us that one of her design professors recommended that they study the woodwork of Highclere Castle, so technically she is watching it for professional reasons, but the rest of us just enjoy the engaging period drama (and the costumes). And sometimes it makes you think, too.
This Sunday's episode (SPOILER ALERT, but don't tell me you watched the Olympics during Downton) it was no surprise to learn that Lady Edith, ever unlucky in love, is carrying the child of her (also unlucky in love) married fiancé, who has vanished somewhere in Munich. Feeling she has no "choice," she decides upon "killing the wanted child of the man I love." Thankfully, she comes to recognize this as a terrible mistake and we are left to see how she will deal with the circumstances. It all makes for good dramatic content in a way that "getting ride of it" could never do.
There was a lot to think about and talk about in the treatment of Edith's "choice." The aunt who was both forthright (Edith's attempt to hide the truth not only from her family but from Michael, presuming his happy return, means that her entire future will be built upon a lie) and supportive (the famous "I'll support you in whatever you decide" that is the expected response in matters of "choice"). There's Edith's predicament itself, especially how she seems driven above all by external pressures, the expectations that she seems to have built her life around fulfilling. There's the child and the sadly dismissive epithet that will follow him or her every day to come. But I also keep thinking of how, much like many other women today, Edith went to an abortionist carrying "the wanted child of the man she loved," a man who had disappeared.
How many "wanted children" are lost because the father threatened to (or actually did) walk out on the woman who trusted his love? Women aren't wrong to expect the man in their lives to welcome a new life that represents their mutual love, but a heartbreakingly large number of them find out differently. And those women who do bring their children into the world are more likely to raise them in poverty. Clearly, what women want (and need) is having a faithful, supportive husband. Just ask Lady Edith.
So why is Planned Parenthood doing a Valentine's Day promo with a social media hashtag #whatwomenneed and making sure it includes abortion and birth control? (Seriously; see below.) Has the nation's biggest abortion provider never heard a woman speak about "the wanted child of the man I love" before putting her on the table?
Here is Planned Parenthood's Cecile Richards suggesting that abortion is a happy-face need and (presumably) a great gift for Valentine's Day (odd that none of the list of things on Richards' list involve actually having a husband around). Responding to the invitation,
Women Speak for Themselves
took the #whatwomenneed hashtag places Richards hadn't…planned. (Add yours on Twitter or Facebook!)
And a few of the
voices in response to the #whatwomenneed tag
. They seem to know what it took Lady Edith a bit longer to recognize...