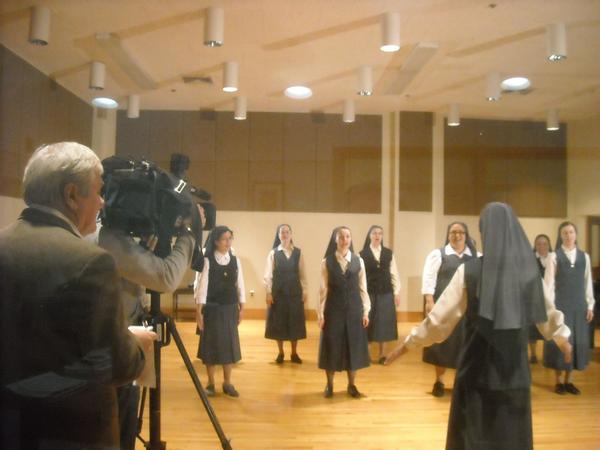 It's interesting that this year our concert "season" is accompanied by all sorts of news items (and Billboard charts) about singing nuns.
The Benedictine Sisters Mary, Queen of Apostles
in Missouri are about as far from being Daughters of St. Paul as you might imagine, but when God wants consecrated women in the forefront of the evangelization of culture, He doesn't look at the initials after their name. In fact, I think He takes a special sort of glee in having cloistered contemplatives, like the Benedictines or like Mother Angelica and putting them in the driver's seat of media evangelization. (And in this case, there is the added fact that the sisters' patron, Mary as
Queen of Apostles
, is also our primary Marian devotion!)
So this year, as we go from town to town with our rather dynamic Christmas "show," the classical music charts (which we will never, ever see) are being blown away with the ethereal side of Christmas. Between the two, I think we and the Benedictines cover the gamut: some people need the witness of an unexpectedly lively presentation to work around their defenses, while others will be drawn to God by sheer loveliness. "God has put each member in the body according to his plan," St Paul commented, and I need that reminder right now, because (as someone with a background in music, and a real love for classical styles) I wish my community would invest a little more in the that area. God has His own way of using our talents, and for as long as we have been doing our "schtick" we have gotten news of people returning to the sacraments or finding peace in a relationship.
Yesterday, a TV crew came for our morning rehearsal; I can't embed the video that aired yesterday, but you can watch it on the
link from New England Cable News
.